Infrared & Capacitive Touch






What is User OLED Mirror Display?
OLED Mirror Display is a leading-edge display solution that provides you a unique products presentation. OLED stands for Organic Light Emitting Diode, a technology that eliminates the need for a backlight or enclosure. Combination of OLED technology (4K screen quality) with a transparent screen substrate forms an LCD Transparent Display. OLEDs are currently used in many mobile devices, some TVs and lighting fixtures. OLEDs offer a better display quality compared to LCD or Plasma displays. The visible images and videos are displayed via attractive OLED screens which are made up of millions of pixels that each emit their own individual light.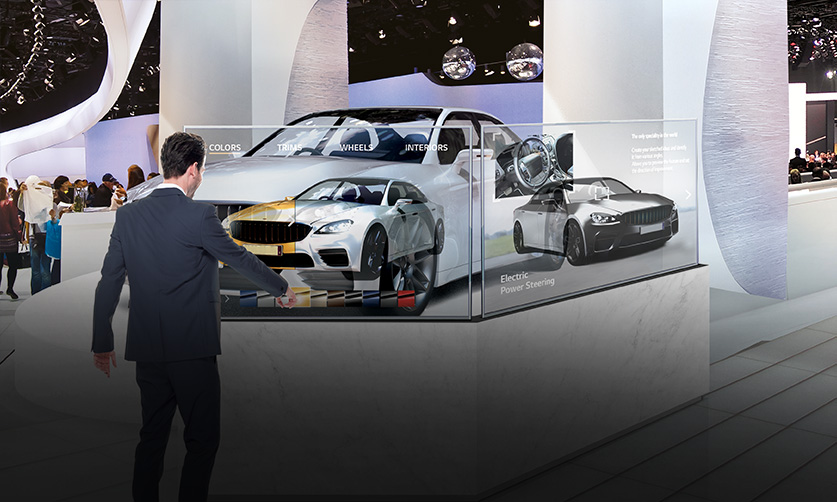 OLED screens is a great assist to your company for creating a unique pleasant marketing with physical products displayed behind the transparent mirror screen. Unmatched transparency and vividness mirror screen with transparency of 38% lets you have a clear vision of all details. Innovative applications of luxurious OLED transparent screen signage allows you to turn your office into a productivity masterpiece. OLED mirror signage are designed only in 55″ and in two types of non-touch and touch screens
OLED Mirror Signage is designed as a semi-assembled display. In other words, it means you can install it
in various ways to fit into your environment structures and spaces. These common installation types are Ceiling mount, Wall mount and Floor standing.
Above all, here we explore some of the most considerable features of "OLED Mirror Display":
✓

Bezel Free

Width of bezel in OLED mirror display is one of the most considered criterion in its structure which should be as thin as possible. USER innovative OLED transparent mirror display tiles are bezel free. That's why you have superb quality images proper for different business environment. OLEDs are currently used in many mobile devices, some TVs and lighting fixtures. OLEDs offer a better display quality compared to LCD or Plasma displays.

✓

Multiple Inputs

Powerful interface supporting a wide range of audio and video inputs and outputs like USB 2.0, DP, LAN, RS232C, HDMI and AUDIO. The USER manufacturer has considered fast dynamic picture without any delay or even frame loss to enhance the UX (user experience).
✓

Tempered Glass

The installed tempered front glass protects the transparent mirror screen from external impact. Three layers in order named OCA(Optically Clear Adhesive), Panel Tempered Glass and AR Film are located on OLED Panel. So its verified safety design means it is reliable enough to endure shock and vibration caused by the surrounding environment, such as moving trains.

✓

Multiple Configuration

You can easily choose among basic level, middle level and top level. Different levels are various in processor from Dual-Core to Dual-Core. Its OS version is available Android 4.1 to Android 7.1 .Moreover we let you to choose your favorite OS between Android, Windows, Linux or standalone OS.
✓

Intelligent Split Screen

Intelligent Split Screen is an attractive item in your OLED transparent display signage software. It helps to take most benefit of your device and use each of its screens to display various visual content.

✓

Automatic Switch Machine

If you are a busy person who forgets to turn off your single-tiling OLED mirror display solution at night, this feature can save you from paying high-price electricity bill. Automatic switch machine will get an administrator schedule and act exactly based on your set time.
✓

IPS Commercial Grade Panel

IPS (In-plane switching) is a screen technology for LED monitors. This was designed to solve the unignorable limitations such as strong viewing angle dependence and low-quality color reproduction.
✓

30.000 Hours Lifespan

It's estimated that lifespan of OLED mirror display screens could be approximately 300,000 hours depending on the life of its lightening and maintenance.
✓

Lifetime Technical Support

This is also a crucial support department in User Company. Counting over twenty technician and engineers to help service any issues that might occur during the life cycle of your displays. Our current final failure rate is below 1.7%. We strive on a daily basis to keep lowering these statistics. Our weekly meetings between our after sales and QC teams truly help us achieve these hard set goals.
✓

Clear & Vivid

Unmatched transparency and vividness glass screen in OLED mirror signage with transparency of 38% lets you have a clear vision of all details of physical product behind the glass screen.
✓

See Through

When people observe an object, having supplemental information can help provide a richer understanding. In this case, transparent OLED signage is the optimal solution. While clearly showing objects behind the screen, it overlays information right over them so that viewers can easily see both the object and the relevant information without having to change their view.

✓

24/7 Usage

As one the important features of bezel-less OLED transparent display is to be able to work continuously for long hours and days in shops. User Company video wall devices are built for 24/7 commercial use of uninterrupted work with the stable performance.
✓

Transparent Display Sizes

Unless other display devices that USER manufactured them in wide range of screen sizes, this unique transparent advertising display is provided only in 55″ and native resolution of 1920 x 1080 (FHD) .
✓

Automatic Color & Brightness Calibration

You can never have perfect color and brightness settings unless your transparent display isn't equipped with automatic color & brightness calibration system. It means all of the panels need to be synchronized with the surrounding displays. Even a small deviation in color or brightness will make you disasters in display balance.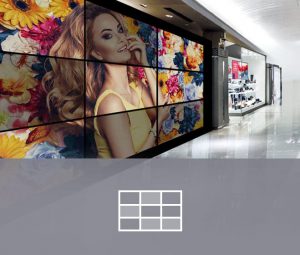 ✓

Eco-Friendly Power Timer

The Eco-friendly power timer lets you assign hourly, daily or weekly on and off times for screen. By this feature, the power is consumed as it is needed. Moreover it is be really effective in energy consumption.
✓

Wide-Viewing Angle

Unlike a conventional display surface which it's not possible to view the monitor at 178 degrees (side to side). User LCD, LED and OLED transparent display wall let you have this wide viewing angle keeping display brightness and contrast.

✓

3D Processing Kernel

3-Dimensional digital image processing kernel equipped in OLED display are for precise monitoring of more details.
✓

3 Years Warranty

User Company has 3 years of warranty for all the products in there will be a technical issue in your display systems. Usersdt Warranty covers the defects resulting from defective parts, materials or manufacturing. The device is considered defective if it fails to perform the functions as indicated in the operation manuals, technical specifications or any other similar documents supplied with the equipment, and the failure is due to internal device characteristics.
Specification
54"
M54-P0.9
M54-P1.2
M54-P1.2
M54-P1.8
Installation Environment
Indoor
Cabinet Size
1200MM×675MM×31.5MM
Pixel Pitch (mm)
P0.9375
P1.25
P1.5625
P1.875
Scanning Mode
60
54
48
32
IC
ICND2065
ICND2065
ICND2065
ICND2065
Packaging Method
MINI
SMD1010
SMD1212
SMD1515
Cabinet Resolution
1280×720
960×540
768×432
640×360
Refresh Rate
3840Hz
3840Hz
3840Hz
3840Hz
Brightness
500nits
600nits
800nits
800nits
IP Level
IP30
Receiving Card
A9S
A5S
Maintenance Method
Front Maintenance
Installation Method
Hanging, Bracket, Wall-mounted, Cabinet
Specification
58"
M58-P1.0
M58-P1.2
M58-P1.6
M58-P1.8
M58-P2.0
Installation Environment
Indoor
Cabinet Size
1280MM×720MM×44MM
Pixel Pitch (mm)
P0.9375
P1.25
P1.667
P1.818
P2.0
Scanning Mode
60
48
54
50
45
IC
ICND2065
ICND2065
ICND2065
ICND2065
ICND2065
Packaging Method
MINI
SMD1010
SMD1212
SMD1515
SMD1515
Cabinet Resolution
1280×720
1024×576
768×432
704×396
640×360
Refresh Rate
3840Hz
3840Hz
3840Hz
3840Hz
3840Hz
Brightness
500nits
600nits
800nits
800nits
800nits
IP Level
IP30
Receiving Card
A9S
A5S
Maintenance Method
Front Maintenance
Installation Method
Hanging, Bracket, Wall-mounted, Cabinet