Infrared & Capacitive Touch






What is User Intelligent Self-service Kiosk?
Self-service Kiosks are kind of Digital Signage that users and audiences can easily interact with it via touch, emotion or voice. Intelligent kiosks are used to transfer and announce visual information of products, services and also receive information and requests from client side. Display system utilized in this interactive computer kiosk uses LCD, LED or projection screen to illustrate visual graphical content .
Applications of intelligent self-service kiosk are a lot to count, it can be used in any public arena for various purposes. These devices can be found anywhere. Touch screen display whiteboards in conference rooms and classes, floor standing Interactive kiosks walls in museums, exhibitions, shopping malls, self-ordering touch kiosk in hotels, restaurants, cafes, these are just some quite common usages of this device.
Interactive Self Service Kiosk makes revolution in your business. Do you as a business owner know that your customers and clients hate to stand in long lines and wastes minutes of time just to get some pieces of information from receptionist. Presence of USER smart kiosk surely brings satisfaction for the users with providing multi-language fast services.
In the management view, It also saves your business from high costs, because each kiosk devices can perform as some employees or even more efficient, so it can dramatically help your organization control the payments and costs.
Intelligent Self-Service Kiosk Usages

Education
at schools, colleges and universities

Catalogue
at exhibitions and company offices

Check-in
At Hotels, shops and universities

Order
Items in store or restaurant meals

Schedule
At schools, colleges and universities

Purchase Tickets
for public transportation, cinema and etc.
Get Product Quotation ONLINE!
✓

High-quality LCD Screen

User provides the interactive self-service touch kiosk with a high-quality screen which utilizes explosion-proof glass. To explore the details, the screen is anti-violent, scratch-resistant, dust-proof and waterproof that helps you maintain in better. Besides, Industrial high-performance LCD screen ensures high image clarity, high brightness and stability of use. It can also be upgrade from 1080P to 2K or 4K .
✓ Operating system (OS):
User interactive touch digital signage series come with customized operating system that will put your hands to choose your preferred OS among Windows, Android, Linux or even standalone OS . In this way, you will supply pleasant user experience for your customers based on their interest.
✓

Storage

Due to increasing size of high-quality media files, User supplies it with high-capacity via internal and external storage. In addition to internal storage varying from 512MB to 2GB, an external storage could be inserted via USB, HDD and SSD. In this way, you will never have any shortage.
✓

Screen Size

You should always choose an appropriate touch screen size considering your environment, device application, user experience. Luckily, USER Display Solution has designed smart kiosk in various model and sizes to provide your needs. Among all sizes the most common ones are 32, 43, 49 and 55 inches.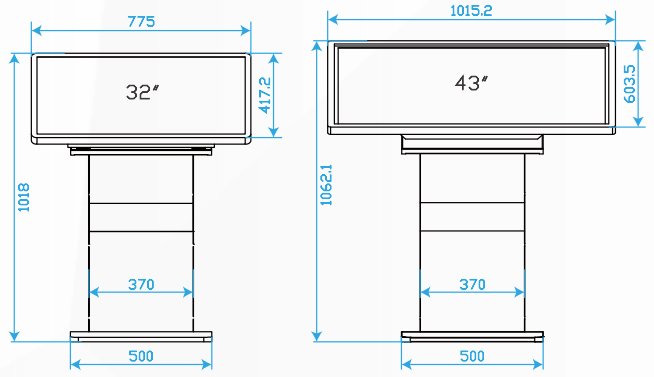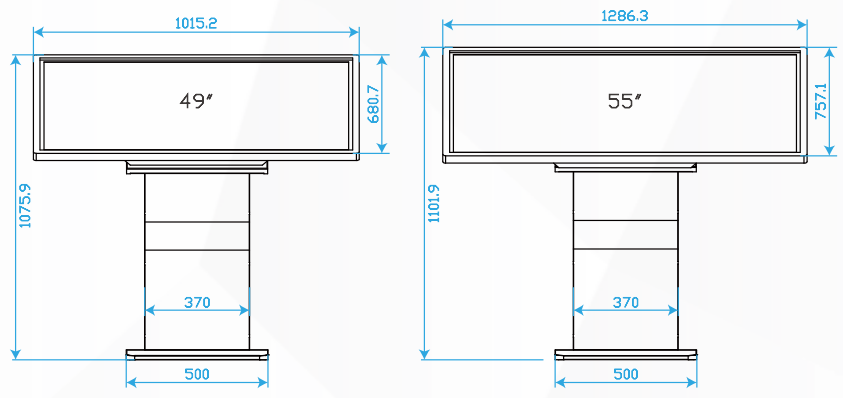 ✓

Multiple Inputs

Powerful interface supporting a wide range of audio and video inputs like SD card and USB Flash and outputs such as HDMI/VGA/DVI/USB. The USER manufacturer has considered fast dynamic picture without any delay or even frame loss to enhance the UX (user experience ).
✓

Multiple Configuration

You can easily choose among basic level, middle level and top level. Different levels are various in processor from Dual-Core to Dual-Core. Its OS version is available Android 4.1 to Android 7.1 .Moreover we let you to choose your favorite OS between Android, Windows, Linux or standalone OS.
✓

Automatic Switch Machine

If you are a busy person who forgets to turn off your Interactive self-ordering digital signage at night, this feature can save you from paying high-price electricity bill. Automatic switch machine will get an administrator schedule and act exactly based on your set time.
✓

24/7 Usage

As one the important features of floor stand interactive kiosk is to be able to work continuously for long hours and days. User Company digital signage devices are built for 24/7 commercial use of uninterrupted work with the stable performance.
✓

Wide-Viewing Angle

Unlike a conventional display surface which it's not possible to view the monitor at 178 degrees (side to side). User LCD display signage let you have this wide viewing angle keeping display brightness and contrast.

✓

Eco-Friendly Power Timer

The Eco-friendly power timer lets you assign hourly, daily or weekly on and off times for screen. By this feature, the power is consumed as it is needed. Moreover it is be really effective in energy consumption.
✓

IPS Commercial Grade Panel

IPS (In-plane switching) is a screen technology for LCD monitors. This was designed to solve the unignorable limitations such as strong viewing angle dependence and low-quality color reproduction.
✓

Centralized Terminal Management

A cloud-based system that provides real-time control and insights of smart interactive kiosk, enabling operators to remotely manage content, display schedule and other functions.

✓

Kiosk Shell

The shell is made of high-strength steel, which is ultra-thin, beautiful and strong, and has excellent protection performance. The material and design of shell is one the significant which provides possibility of using in both indoor and outdoor conditions.
✓

Lifetime Technical Support

This is also a crucial support department in User Company. Counting over twenty technician and engineers to help service any issues that might occur during the life cycle of your displays. Our current final failure rate is below 1.7%. We strive on a daily basis to keep lowering these statistics. Our weekly meetings between our after sales and QC teams truly help us achieve these hard set goals.
✓

3 Years Warranty

User Company has 3 years of warranty for all the products in there will be a technical issue in your display systems. Usersdt Warranty covers the defects resulting from defective parts, materials or manufacturing. The device is considered defective if it fails to perform the functions as indicated in the operation manuals, technical specifications or any other similar documents supplied with the equipment, and the failure is due to internal device characteristics.
User Intelligent Self-Service Kiosk
Product model
US-AD*****
Screen

parameters

Size
43"-55"
Audio system
Horn
2×5W(8Ω)
Back type
Backlight integration
Sound mode
standard
Display Proportion
16:9
Output Interface
PC output interface
RJ45 1、USB  2
Physical resolution
1920X1080
L/R Audio output
1 RCA X2
Color depth
16.7M
Power consumption
Input voltage
C 100~240v 50/60HZ
Viewing angle
R/L/U/D 89/89/89/89
Standby power / rated power
≤3W/≤180W
Brightness
450 cd/㎡
Cabinet
Material
SPCC
Contrast
5000:1
Exterior color
Black (default) gold silver
Response time
5ms
External conditions
Working temperature / humidity
0℃~50℃/20%~80%
Service time
60000 hours
Storage temperature / humidity
-10℃~60℃/5–95%
Screen size Power
Screen size Power

18.5 inch
21.5 inch
27 inch
32 inch
43 inch
49 inch
55 inch
65 inch
75 inch
86 inch
98 inch
Standalone version
25W
30W
50W
70W
85W
100W
115W
180W
240W
380W
550W
Android system
25W
30W
50W
70W
85W
100W
115W
180W
240W
380W
550W
Low power consumption

One machine series

38W
40W
50W
90W
100W
120W
135W
180W
260W
300W
500W
Desktop machine series
95W
98W
110W
150W
170W
190W
220W
250W
330W
390W
600W
Touch Panel
| | | | |
| --- | --- | --- | --- |
| Touch Panel Options | Infrared Touch (IR Touch ) | Capacitive Touch | Nano Capacitive Touch |
| Touch Points | 10 points touch | 10 points touch | 10 points touch |
| Material | IR Tube | G+G | G+F |
| Response Time | <8ms | <3ms | <5ms |
| Touch Times | 50 million times | 50 million times | 50 million times |
| Transmittance | 0.92 | 0.95 | 0.85 |
Control Processing Unit (CPU)
Version
CPU
Internal Storage
Out Storage
Interface
System supporting
Display Version
E9-B11/ E9-BNC/E6J-AV
No storage
USB /HDD/SSD
HDMI/VGA/DVI/USB
Android /Windows/Linux OS
Standalone Version
Mstar V56
No storage

( 8G/16G available)

support SD card and USB Flash
HDMI/USB/SD
Only Standalone OS
Configuration
Configuration
CPU
Chip architecture
Processor
Maximum resolution support
System Version
Storage
Basic level
A20
Cortex-A7
Dual-Core
1080P
Android 4.1
512Mb +8G
A33
CortexTM-A7
Quad-core
1080P
Android 4.4
512Mb/1Gb +8G
A64
Cortex-A53
Quad-core
1080P
Android 5.1
512Mb/1Gb +8G
Middle level
RK3128
Cortex-A7
Quad-Core
1080P
Android 6.0
512Mb/1Gb +8G
RK3368
Coretex-A53
Octa-Core
2K/4K
Android 6.0
1Gb/2Gb +8G
RK3188
Cortex A9
Quad-Core
2K
Android 6.0
1Gb/2Gb +8G
Top level
RK3288
Cortex-A17
Quad-Core
4K
Android 6.0
2Gb +8G
RK3399
Cortex-A72
Dual-core +Quad-core
4K
Android 7.1
4Gb +16G
Amlogic T960X
Cortex-A53
Quad-Core
4K
Android 7.1
2Gb+8G
Operating System (OS)
Operating System
CPU
System Version
Graphics
RAM
Storage
Windows OS
Core-i3
Win 7/ Win 10
3.7HZ/3.9HZ
4G (8G available )
120G SSD/500G HDD
Core-i5
Win 7/ Win 10
3.2HZ/3.4HZ
4G (8G available )
120G SSD/500G HDD
Core-i7
Win 7/ Win 10
3.4HZ/3.6HZ
4G (8G available )
120G SSD/500G HDD