Infrared & Capacitive Touch






What is User Coffee Shop Touch Table?
User Coffee Shop Touch Table (Coffee Shop interactive touch table) is an ultra-modern table designed and developed to provide customers a pleasant user experience. Users can be engaged by connecting to information and self-service by their own fingertips. People spend a huge part of their time using high-tech gadgets such as mobile and tablets, so they would really like to have this enjoyable experience in public places. It's been proved that collaboration and engagement rate among audiences is much more via touchscreens in comparison with traditional methods. Coffee Shops ,Restaurants, museums, exhibitions, education centers, offices are just some of the first places that come to mind where presence of touch table can make a great revolution in their performance.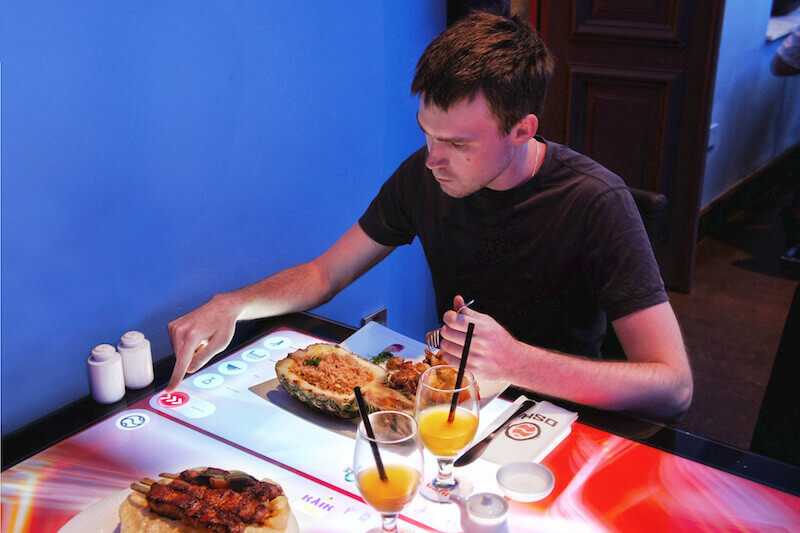 Why should you buy a smart touch table?
There are lots of applications for this state-of-art interactive coffee table in different location, while to make you more familiar, we'll mention some of most significant ones below
Browsing menus
Ordering food
Accessing special offers
Data capture of telephone and email for loyalty schemes
Reading news websites
Playing games
Sharing on social media
✓

Bezel Free

Width of bezel in Coffee Shop Touch Table Display is one of the most considered criterion in its structure which should be as thin as possible. Otherwise it would make an unpleasant visual experience for you. USER coffee shop touch table is single tile. That's why you have superb quality images proper for different business environment.

✓

Operating system (OS):

Our coffee shop touch table series come with customized operating system that will put your hands to choose your preferred OS among Windows, Android or even standalone OS . In this way, you will supply pleasant user experience for your customers based on their interest.
✓

Multiple Inputs

Powerful interface supporting a wide range of audio and video inputs like SD card and USB Flash and outputs such as HDMI/VGA/DVI/USB. The USER manufacturer has considered fast dynamic picture without any delay or even frame loss to enhance the UX (user experience).
✓

Multiple Configuration

You can easily choose among basic level, middle level and top level. Different levels are various in processor from Dual-Core to Dual-Core. Its OS version is available Android 4.1 to Android 7.1 .Moreover we let you to choose your favorite OS between Android, Windows, Linux or standalone OS.
✓

Intelligent Split Screen

Intelligent Split Screen is an attractive item in your interactive touch table software. It helps to take most benefit of your device and use each of its screens to display various visual content.

✓

Automatic Switch Machine

If you are a busy person who forgets to turn off your bezel less Coffee Shop Touch Table at night, this feature can save you from paying high-price electricity bill. Automatic switch machine will get an administrator schedule and act exactly based on your set time.
✓

LED backlight

Presence of LED blacklight brings an enhanced brightness and contrast in addition to reducing power consumption. Unlike other forms of light this technology is mercury free, making it even more Eco-friendly.
✓

100.000 Hours Lifespan

It's estimated that lifespan of touch table for a coffee shop and restaurant could be approximately 60,000 hours depending on the life of its backlighting bulb.
✓

Lifetime Technical Support

This is also a crucial support department in User Company. Counting over twenty technician and engineers to help service any issues that might occur during the life cycle of your displays. Our current final failure rate is below 1.7%. We strive on a daily basis to keep lowering these statistics. Our weekly meetings between our after sales and QC teams truly help us achieve these hard set goals.
✓

24/7 Usage

As one the important features of coffeeshop interactive touch tables is to be able to work continuously for long hours and days. User Company video touch table devices are built for 24/7 commercial use of uninterrupted work with the stable performance.
✓

Various Touch Table Display Sizes

Most of our touch tables can be customized in screen size to suit your coffeeshop environment in the best way.
✓

Built-in mosaic controller

Built-in mosaic controller which is located on display panel, runs complicated shows quite precisely. In fact , it supports DMX512 and DMX-Over-Ethernet protocols to LED fixtures, conventional dimmable fixtures and automated lights. Mosaic Show Controllers also called MSC , offer up to 2048 channels of control from a single controller. Above all, to read more click here .
✓

Automatic Color & Brightness Calibration

You can never have perfect color and brightness settings unless your bezel-free videowall isn't equipped with automatic color & brightness calibration system. It means all of the panels need to be synchronized with the surrounding displays. Even a small deviation in color or brightness will make you disasters in display balance.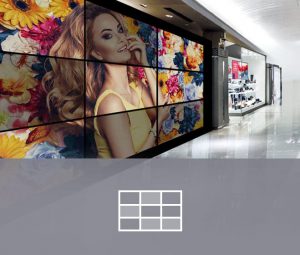 ✓

Eco-Friendly Power Timer

The Eco-friendly power timer lets you assign hourly, daily or weekly on and off times for screen. By this feature, the power is consumed as it is needed. Moreover it is be really effective in energy consumption.
✓

Wide-Viewing Angle

Unlike a conventional display surface which it's not possible to view the monitor at 178 degrees (side to side). User LED display wall let you have this wide viewing angle keeping display brightness and contrast.

✓

3D Processing Kernel

3-Dimensional digital image processing kernel equipped in smart touch tables are for precise monitoring of more details.
✓

IPS Commercial Grade Panel

IPS (In-plane switching) is a screen technology for LED monitors. This was designed to solve the unignorable limitations such as strong viewing angle dependence and low-quality color reproduction.
✓

3 Years Warranty

User Company has 3 years of warranty for all the products in there will be a technical issue in your display systems. Usersdt Warranty covers the defects resulting from defective parts, materials or manufacturing. The device is considered defective if it fails to perform the functions as indicated in the operation manuals, technical specifications or any other similar documents supplied with the equipment, and the failure is due to internal device characteristics.
User Coffee Shop Touch Coffee Table
Panel Specifications
Items
Specification
Unit
Panel Size
42
inch
Panel Type
TFT-LCD
/
Active Display Area
927.94 (H) x 521.96 (V)
mm
Display Colors
8 bit, 16.7 Million
colors
Number of Pixels
1920 x 1080
pixel
Luminance of White
350 (Typ.)
cd/m2
Contrast
1400:1 (Typ.)
/
Viewing Angle
±178 (wide)
degree
Aspect Ratio
16:9
/
Response Time
6 (Typ.)
m-sec
Life Time
60,000
hours
PC Specifications
Solution: Intel i3
Parts
Specification
Processor
Intel i3 3240 (3.4GHz, dual core)
RAM
4G DDR3 (Kingston)
Hard Disk
500G 5400rpm (Seagate)
Mother Chipset
Intel H61 chipset, Sandy Bridge
Video Chipset
Intel HD Graphics, Shared memory
Audio Chipset
Intel HD audio
I/O ports
4xUSB 2.0, 1xRJ-45, 1×3.5mm jack plug, 1xHDMI, 1xVGA, 1xDC 12V
Internet
Default: RJ-45 and Wi-Fi. Optional: 3G
Loudspeaker
2 x 8Ω/ 5W
OS
Linux, Windows XP, Vista, 7/8 (32 bit) / extra cost for original version
OS Language
English (default)
Touch Performance
Touch Screen Type
Pro-Cap touch film
Touch Condition
Finger
Touch Points
2 points. Optional: 4, 8, 16, 32 points
Interpolation Resolution
32767 x 32767
Response Time
≤ 20m-sec
Min Touch Diameter
5mm
Touch Accuracy
±2mm for 90% area
Platform
4mm thickness tempered glass
Appearance
Color
White (default), black and customized
Case
2mm cold-rolled sheet
Paint Process
170°~ 180°Baking finish
Application
Stand
Others
Power Input
AC 100 ~ 240V, 50/60 Hz
Max. Power Consumption
122KWh
Standby Power Consumption
<5KWh
IP Code
IP20
Working Temperature
0 ~ 40°
Storage Temperature
-20 ~ 55°
Working Humidity
20% ~ 80%
Storage Humidity
10% ~ 90%
Unit Package
PE film + Foam corner protector + Carton
Export Package
Export wooden packing
Accessories
Driver, Manual
Warranty
1 Year