New VP director Christina Nowak will develop the company's interests across film and TV, following the acquisition of 896 Black Pearl BP2V2 'film-centric LED panels' from ROE Visual.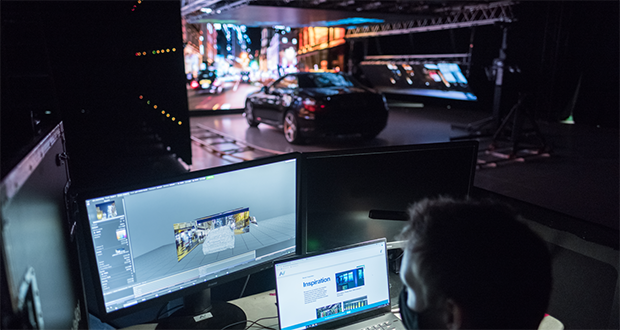 Anna Valley has appointed a director of virtual production, Christina Nowak, and made a £1.9m investment in LED technology from ROE Visual.
The company has already undertaken several creative and commercial virtual production projects, including the GRM Rated Daily Awards and the Independent Music Awards, and the team is now ready to move things up a gear. Nowak's first major task will be to formulate a business plan to develop the firm's VP interests across film and TV.
She was convinced to join Anna Valley by the company's pragmatic approach to this exciting but relatively new area of the industry. "They recognise that there can be no 100% experts in something that has only been used on a large scale for a couple of years old," said Nowak. "The Anna Valley team knows it's the start of a new era of production and they want to be a part of its evolution. They want to engage fully with VP and ensure they have the products that will serve the market best."
To ensure that it has the requisite tools and facilities, Anna Valley has kickstarted a new phase of investment, including its largest-ever purchase in VP technology. The company has acquired 896 Black Pearl BP2V2 'film-centric LED panels' from ROE Visual with a 2.8mm pitch – equating to 224sq m of LED panels and a total investment of about £1.9m. Anna Valley has also purchased hanging and stacking bars along with various curving plates from ROE, while a relationship with a batch partner will allow Anna Valley to boost its capability to 1500 panels from one batch when needed for larger productions.
"The primary objective is to make the company a creative hub for virtual production," Nowak added. "From my perspective, that means establishing strong relationships with technical partners, and ensuring that we have the capabilities to offer complete VP solutions for productions and crew. Although Anna Valley is not unknown in this market, we are effectively approaching this as a new launch because we want to have a clear message about the services and skills we can provide."
In approaching this challenge, it can be only advantageous that Nowak brings a wealth of experience in business development and marketing roles at leading media technology companies. As senior marketing manager, EMEA, at Pinewood Studios-based RED Digital Cinema, she spearheaded a host of domestic partnerships and experiential initiatives. Subsequently, Nowak worked as head of marketing at Ncam Technologies, whose pioneering real-time visual effects solutions have been utilised for acclaimed productions including Solo: A Star Wars Story and Outlander. Most recently, having established her own consultancy, New Chapter Production, in addition to representing like-minded companies such as Megapixel VR in VP, Nowak served as business development director director of film and TV for Virtual Production Studios at creative technical production company 80six.
Recent world events have confirmed to Nowak  that VP is approaching a tipping point. "The pandemic and related restrictions have definitely accelerated the trend," she said. "It has encouraged a new outlet for creative exploration, along with remote production methods, controlled environments, and the elimination of travel. The advancement of technology and investments by multiple vendors have kickstarted a digital revolution of a magnitude not seen in cinema for 100 years."
Reference : AVinteractive