Highly accurate synchronisation and integration with Screenberry proved invaluable as Creative Technology required 8K 25fps video playback in the largest spaces at the London venue.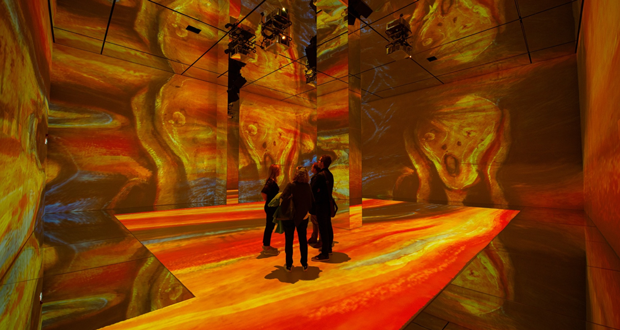 London's first permanent digital immersive arts experience, Frameless, has deployed 19 HIVE Player_3 4K and 8K media players.
Integrator Creative Technology opted for the HIVE kit Digital to power the digital interpretations of 40 masterpieces by 28 artists including Klimt, Monet, Rembrandt and van Gogh.
The right result hinged on highly accurate synchronisation. HIVE technical director Dave Green said: "Synchronisation is the key element that holds everything together in an installation like this. The HIVE Player_3 system offers SDI outputs with GenLock from a reference signal, and this ensures from device to device, everything is perfectly in sync.
"The video mapping at Frameless is very much at the cutting edge of what's possible right now. This was achieved in part by CT using Front Pictures Screenberry software for automated camera-based calibration."
The 8K 25fps equirectangular video playback used in Frameless' largest space is at the top end of what the HIVE Player_3 device can deliver. Green added: "The output resolution from the HIVE players is running at 50Hz, but the content was provided in 8K 25fps, so we needed to use the AiM codec interframe interpolation feature to ensure we achieved a smooth video playback on the larger surfaces – and in 8K, that's fairly challenging."
HIVE's new generation of carbon-footprint-friendly computers also use a tenth of the energy of many similar products, making them a more sustainable option.
Frameless chief technology officer Simon Kentish said: "HIVE's value for money is amazing in terms of its delivery, its form factor and its integration with products such as Screenberry. It's right for us, and we'll be using it moving forward."
Reference : AVinteractive