Modulo Kinetic servers enable the broadcasting of a show on a curved LED wall and a dome fed by 24 projectors at an 800 sq m auditorium at the Mohammed VI Polytechnic University in Morocco.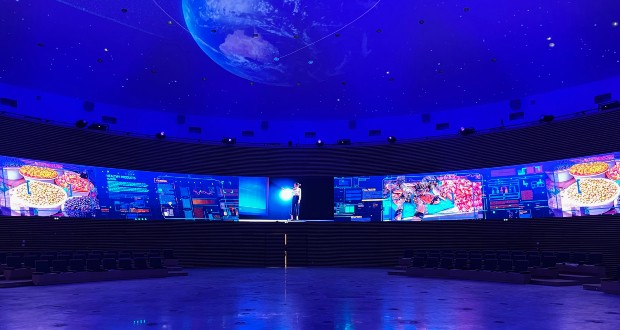 The AV system at a new multi-purpose auditorium that has been designed to offer an exceptional immersive experience is being powered by Modulo Pi media servers.
The lower part of the Agora event space, which opened at the Mohammed VI Polytechnic University in Morocco last summer, features a cylindrical LED wall made up of Samsung IFR25 tiles with a pitch of 2.5mm.
The upper part of the circular room, which has a diameter of 32m and an area of more than 800 sq m, comprises a dome on which a mapped projection relies on 23 Crimson HD31 projectors and a Crimson WU31 projector from Christie.
The LED and projection displays are powered by 12 Modulo Kinetic media servers. A Modulo Kinetic Designer workstation controls nine Kinetic V-Node servers equipped with six outputs. The whole system is completed by a back-up Kinetic Designer station and a V-Node server.
The Agora's control room has been optimised to facilitate the management of events. Control panels have been created in Modulo Kinetic and made available to the operators in the control room.
Eric Jondot, managing director of Atrait Consulting, which carried out the technical study for the project, said: "The Modulo Kinetic servers calculate simultaneously, and in real time, the rendering and all the data for the broadcasting of the show. This represents 43 HD video streams – 130 million pixels – as well as 54 audio broadcasting points and the synchronised lighting control."
Reference : AVinteractive