Firm develops an AI-powered marker-less motion capture system for the Moment Vault at Orlando International Airport that brings new capabilities to location-based immersive environments.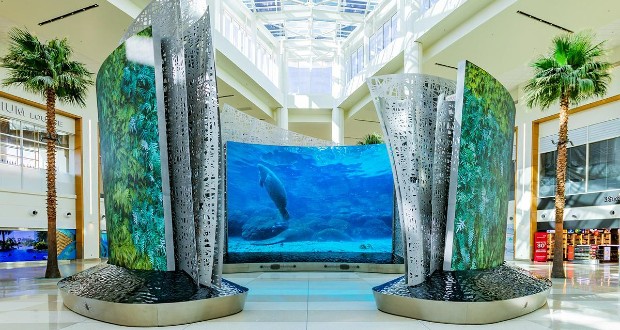 An immersive multimedia installation at Orlando International Airport's new South Terminal Complex is utilising Realmotion's interactive media servers and a new AI-powered marker-less motion capture system.
The Moment Vault allows passengers to walk through three curved 2mm LED displays that form a circle, while viewing content relevant to the locale, including space launches and underwater scenes. The exterior of the installation is also adorned with 4mm DVLED displays, ensuring that every visitor to the terminal can be part of the experience.
Realmotion's new multi-GPU Fusion server uses six cameras to provide 3D marker-less tracking for up to 25 subjects within the confines of the Moment Vault. The real-time tracking system then transmits the data to three Realmotion G32 servers, where it feeds into an Unreal Engine scene. This set-up uses AI and machine learning to ensure accurate people tracking through the generation of a '3D pose estimate' for each individual in the space. Each pose estimate is used to accurately place real-time virtual avatars in live digital content.
Existing pose estimate solutions worked only in 2D and could not differentiate between the size and distance of objects, so Realmotion designed a system that utilises the six cameras to capture the space from different perspectives. Multiple camera angles also eliminate occlusion – or sight-line blockages – that would otherwise miss visitors who are behind someone else relative to the camera.
The new AI-powered motion capture system brings a new set of capabilities to location-based immersive environments, according to Realmotion, by providing precise, responsive and robust 3D marker-less tracking for groups of users.
Realmotion founder and project lead Alexandre Simionescu said: "The immersive real-time experience is made possible through our latest G32 real-time media servers and Fusion tracking technology, which instantly converts a subject's motion into digital wireframes that are integrated into the on-screen content."
Reference : AVinteractive