Displace's 55″ 4K TV can be fixed to any surface by rectangular suction cup-like pads, and can operate for about 180 hours on a single charge of its four batteries.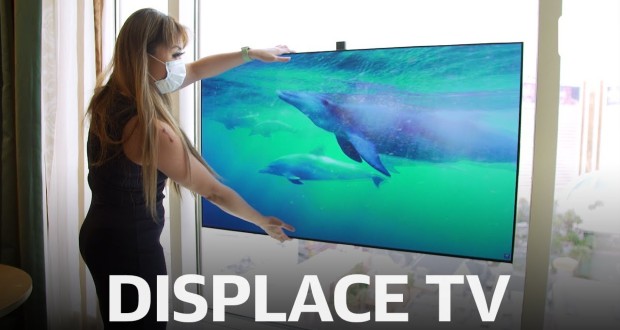 Displace showcased what is claimed to be 'the world's first truly wireless' TV at CES in Las Vegas last week.
The 55″ 4K TV, which weighs about 9kg, can be secured to any surface without the need for mounting, using Displace's 'active-loop vacuum technology' – large, rectangular suction cup-like pads on the back of the screen.
The Displace TV has no wires nor ports. It is run on four rechargeable batteries that can power the TV for about 180 hours. Multiple displays can be arranged to create a TV of any size.
The TV does not come with a remote control and is primarily controlled by hand gestures. All Displace TVs wirelessly connect to a base unit that is plugged into an electrical socket.
The company's founder and chief executive, Balaji Krishnan, said: "Displace completely reinvents the television with its hardware and software technologies, and user interfaces that will not only change the way people enjoy entertainment in their homes, but will also advance the entire television industry.
"We envision a world with multiple displays on walls delivering significant value to the consumers wherever they are inside their homes. To achieve this vision, it's important to rearchitect television by eliminating all common frustrations and making it extremely easy to secure televisions on any surface inside homes."
Reference : AVinteractive