BBC Studios Events was aided by NorthHouse (visuals), Stufish (stage design), CT UK (projectors and LED), Brit Row (live audio) and Skymagic (drones).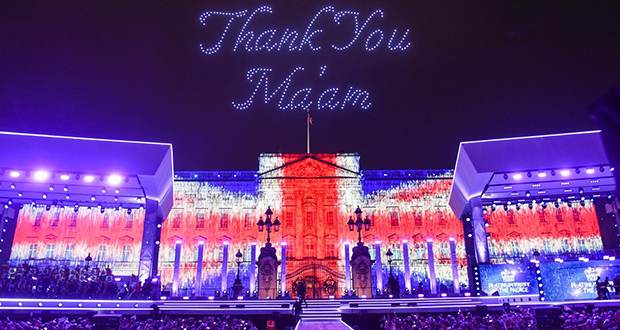 An array of live event technology talent was responsible for the Platinum Party at the Palace event in the UK, marking the 70th anniversary of the Queen's accession to the throne, according to the first press and social media reports.
Produced by BBC Studios Events, it had visual content by NorthHouse, stage design by Stufish, LED screens and projection by Creative Technology UK, live audio services by Britannia Row Productions and drones by Skymagic.
The event, which turned Buckingham Palace in London into the equivalent of an IMAX screen, was seen by 13.4 million viewers at its peak.
Design and production studio NorthHouse was commissioned by BBC Studios producers Mark Sidaway and Claire Popplewell in January 2022 and planned, designed and created the visuals for the two and a half hour show, as well as BBC broadcast graphics across all Platinum Jubilee events.
NorthHouse built its own software to visualise the show before arrival at the palace. This enabled the visuals to be seen from multiple perspectives, as well as showing the impact of nighttime and weather conditions.
Tom Bairstow, creative director and founder of NorthHouse, said "We really wanted to create an incredibly special and memorable show and completely transform Buckingham Palace with visual FX into something that has never been seen before."
The concept behind the Stufish design was to have 70 years of service represented by 70 pillars surrounding the stage design. The pillars represented the support the Queen has given the UK over the past 70 years of her reign, with multiple stage designs allowing for the event to encompass the whole of the site.
Creative Technology UK supplied 32 Panasonic projectors and over 200 sqm of ROE Black Quartz LED for the Platinum Jubilee celebrations.
"It is always truly a privilege to work on royal and military events of this kind and to provide our specialist technical services to help commemorate these significant occasions," said Mark Elliott, managing director at Creative Technology UK.
Reference : AVinteractive