The giant holograms featured alongside digital art and interactive projection mappings at an immersive light and sound experience in Brisbane produced by Laservision.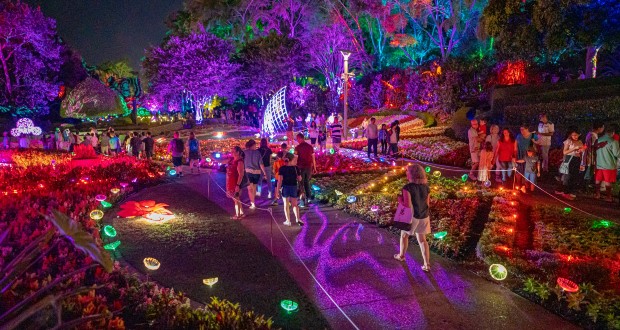 Brisbane's annual immersive light and sound experience, The Enchanted Garden, has featured more than 8,000 sq m of lighting installations, digital art, holograms, interactive projection mappings and lasers.
The Enchanted Garden 2022, which ran from 25 November-21 December in the city's Roma Street Parkland, showcased the park's most famous resident – the Eastern water dragon – which appeared as giant holograms.
Featuring a creative narrative entitled 'Guardians of the Park', the lighting installations and interactive digital art displays were produced by Laservision.
"In partnership with the team at City Parklands Services, we made this year's journey even more exciting with more magical holograms, hidden totems to discover and a story that inspires people with the natural beauty of the park. 'Guardians of the Park' celebrate the local Eastern Water Dragons that transform into their true magical selves, taking on the colours and characteristics of the park's natural elements: water, trees, rocks and flowers," said Laservision creative director Juan Zubiaga.
Reference : AVinteractive