Stores in Australia and New Zealand have implemented a new solution featuring Signagelive software and Samsung SoC displays, improving control, lowering costs, and maximising uptime.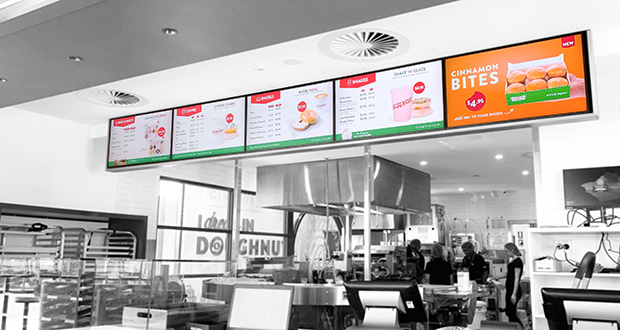 Doughnut and coffeehouse chain Krispy Kreme has streamlined its digital signage capabilities and added digital drive-throughs in Australia and New Zealand, using a solution from pro AV integrator Amped Digital that leverages software from UK-based Signagelive and Samsung's smart displays.
Krispy Kreme in-store operators transitioned from ageing playback hardware and displays, and management software that had limited capabilities, to a new, lower-cost combination of Signagelive's user-friendly, data-driven software and Samsung's System On Chip displays – all-in-one commercial flat panel displays that build the media storage and playout capabilities into the screens.
More than two-dozen Krispy Kreme stores in the two countries now use an in-store set-up that involves a minimum of four screens tiled in a row, behind the order counter. Promotional content is also synchronised across all four screens, on demand, for can't-miss promotional campaigns.
Amped's solution is also being used now for the drive-through lanes at selected locations. Commonplace in the US and Canada, digital menu boards in drive-through are relatively rare in the Australia and New Zealand region. But the pandemic and the restrictions it triggered in Quick Service Restaurant (QSR) environments prompted Krispy Kreme to introduce them in 2021 – as a way to maintain sales and service delivery even if in-store access by customers was limited or disallowed.
Flagship locations in Cannington, Western Australia and Penrith, New South Wales are installed with a three-display outdoor menu board unit, along with a single-screen "pre-sell" promotional display in the lane approaching the order station. Those positions use Samsung's OHF daylight-readable, outdoor-ready smart LCD displays, with pricing and promotions driven by Signagelive's content management software.
The two stores were the first in the entire Krispy Kreme APAC region portfolio to adopt drive-through menu technology.
Upgrading its technology stack and changing service provider has also provided Krispy Kreme with autonomy and control over how its digital signage menu system is managed, and enabled much quicker updates and revisions.
Menu changes were outsourced using the old solution, which led at times to long delays for change requests. Now the Krispy Kreme team manages the screens in house. Amped Digital facilitated the training and set-up of the new system, tuning it to their processes and management style. "We provided a highly effective implementation of the new solution and ongoing support services," said Dylan Holtzhausen of Amped Digital.
Creating a network on the cloud-based Signagelive digital signage platform provided several advantages for Krispy Kreme, including:
A simple but powerful software user experience that could be fully managed in-house;
Secure cloud-hosting with high availability that removed the day-to-day management burden for Krispy Kreme's regional IT services team;
An agnostic, web-centric platform that uses tools such as data-tagging of players, locations and media assets to maximise accuracy of content targeting and scheduling, but minimises the work needed day-to-day to refresh and distribute new material.
"If the various elements of a digital signage network are described and tagged within Signagelive, a content targeting and scheduling job that would take hours on other platforms can be done in a matter of minutes," said Jason Cremins, CEO of UK-based Signagelive. "It means minimal management time to run the network, but provides maximum control over how things look and work."
Using Samsung's well-established Smart Signage displays has removed the need for, and associated cost of, an external media player to drive screen content, and lowered ongoing operating costs for Krispy Kreme. Field outages have dropped dramatically by switching from a standalone, PC-based media playout device to the zero-moving-parts, embedded playback solution built into Samsung's smart displays. Because there is no need for external signal cables, outages caused by simple issues like loose connectors have also been minimised.
Maximum uptime is especially important for QSR operators, as the menus are the focal points for all transactions.
Krispy Kreme is now accelerating its roll-out of outdoor menu displays to existing and new-build stores in the region. "Amped Digital continues to grow our relationship with the Krispy Kreme team, supporting day-to-day operations with new initiatives and store openings, with tremendous support from Signagelive," added Holtzhausen.