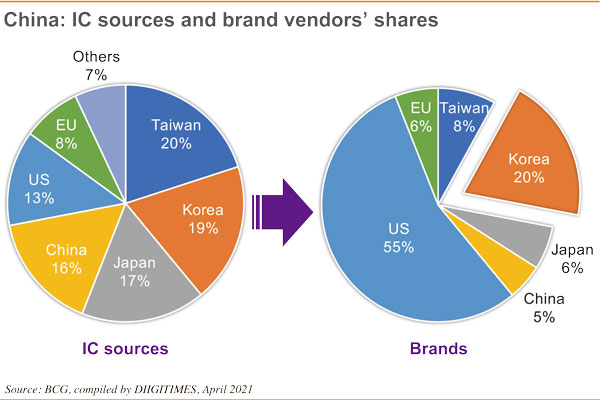 China accounts for 60% of the global semiconductor market, with 61% of South Korea's semiconductor exports expected to go to China in 2021. Similar export patterns apply to Taiwan. South Koreans say Taiwan is good at capitalizing on the strength of its semiconductor industry, which has given it a favorable position in the US-China trade war, while South Korea has been caught in a dilemma. Semiconductors are no longer just industry products, but are now at the frontline of the China-US confrontation. For South Korea, it is now torn between the two superpowers.
The most awkward role in the US-China trade war is not being taken by Taiwan, but rather by South Korea. From an industrial point of view, it's difficult for Taiwan's industry to unshackle itself from China's supply chain, but politically it has no choice but to take the US side. South Korea's situation, however, is drastically different. South Korea has never been as strong as it is today. Not only is it certified by the UN as one of the developed countries; it is also one of the world's major trading powers. South Korea doesn't want to be dependent on the US or swayed by China. But the political uncertainties between the two Koreas are the reality. Seoul is just a 40-minute drive from North Korea, vulnerable even to artillery fire from the north. South Korea hopes that the US military in South Korea can help ensure stability, but it also needs to feed on China's enormous market.
Compared with Taiwan's population of 23.57 million people, South Korea's population is 2.19 times that of Taiwan. Its GDP per capita is slightly higher than Taiwan's, and its GDP is 2.55 times that of Taiwan. South Korea is much ahead of Taiwan in terms of national strength. Focusing on manufacturing rather than brand businesses, Taiwan has always been playing the role of a "harmless partner." This is fundamentally different from Korean conglomerates which win customer orders by means of upstream-downstream integration. Rarely do Taiwanese firms have business disputes with their customers. But Samsung's customers are often worried that the Korean giant stands to reap all the benefits. Thus, Taiwanese and South Korean enterprises are very different in terms of customer relationship.
For instance, there have been tensions between Japan and South Korea over the issue of "comfort women." In 2019, Japan imposed sanctions on exporting semiconductor materials such as hydrogen fluoride to South Korea and ignored the Seoul's offer of arranging a visit to Japan by president Mun Jae-In during the Tokyo Olympic Games. The tensions between Japan and South Korea are actually enabling warmer ties and closer affinity between Taiwan and Japan in future cooperation in science and technology.
In view of diplomatic ties with the US and China, South Korea is actively seeking to reach an internal consensus. South Korea is feeling threatened by the US intention to lead and command the semiconductor supply chain as its national strategy. South Korea's two major parties respectively set up special committees on semiconductors earlier this year to explore strategies, followed by a publication by the government of its national semiconductor strategy on May 13. South Korea, which is eager to be its own master, feels intensely threatened by the US semiconductor policy. But Taiwan has shown that it is willing to cooperate with the US as much as possible. The governments of Taiwan and South Korea are developing drastically different strategies to cope with the new global situation.
If the US-China confrontation is here to stay for the long term, with the US having the upper hand, then Taiwan would be the beneficiary, judging from its responses to US demands. On the contrary, the US might not trust a swaying South Korea; nor would China bet on South Korea. South Korea could be in a tougher position than it is today.