Three multimedia installations are designed to create a soothing and calming environment that is also 'touched by the cleverness of Hong Kong'.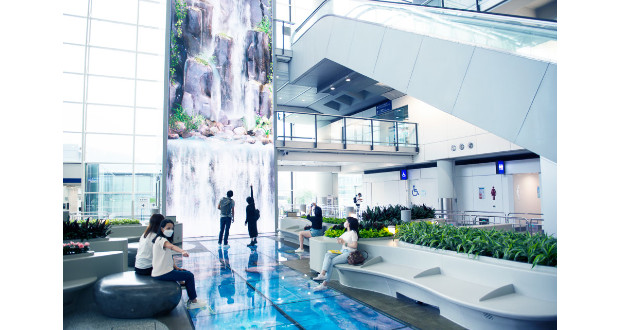 Moment Factory has produced three new multimedia experiences that greet passengers arriving and departing from Hong Kong International Airport.
Each installation is strategically positioned in Terminal 1 to confront passengers at key moments in their airport journey.
In the landside Meeters and Greeters Hall, departing and arriving travellers are welcomed by a Crystal Elevator that reveals snapshots of Hong Kong culture.

Waterfall Gardens encourage moments of rest with a lush interactive ecosystem, while at the departure gates, Totems of Joy combines real-time flight information with creative content to offer each departing traveler a 'selfie-friendly' send-off.
"The idea was to create a soothing and calming environment overall, but one that's also touched by the cleverness of Hong Kong," said Amy Chartrand, creative director at Moment Factory.

"Those passing by will glance at the features and find them beautiful, while those who have the time to stop and engage will be rewarded with surprises."
Airport Authority Hong Kong officials invited Moment Factory to collaborate early in the process, allowing its technical and creative teams to develop concepts and content which, although a retrofit, seamlessly integrate into the complex airport environment.
Moment Factory's expertise includes past projects at Singapore Changi Airport, Los Angeles International Airport, and Shinjuku Station in Tokyo, Japan.
Reference : AVinteractive