Mexican university Tecnológico de Monterrey, which developed the holographic projection technology, held a joint class with Dutch university TU Delft.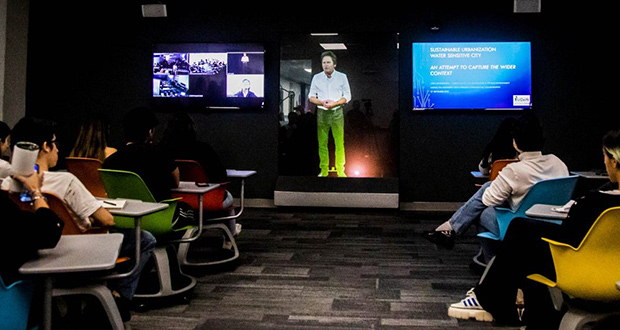 Two universities have jointly held the first intercontinental university class to use Professor Hologram technology.
On one side of the Atlantic ocean were students and professors from Tecnológico de Monterrey, a private Mexican institution known as Tec, which developed the holographic system.
And on the other side of the ocean were students and a guest professor at Delft University of Technology (TU Delft) in the Netherlands.
Tec initiated a Professor Hologram project in 2018, enabling teaching across more than university site, and attracting visits from consortia of universities in Germany, Italy and Ireland that wanted to learn more, but the initiative was put on hold during the Covid-19 pandemic. It has now been reactivated, with the participation of TU Delft.
"It is the first time that we have provided an intercontinental class between universities," Patricia Aldape, director of innovative learning experiences at Tec, told a Tec university publication. "They knocked on the door because they wanted to learn; now we're working together and showing them how this technology works," she added.
The class brought together a professor and students from the Urban Planning department at TU Delft with three professors and students from the School of Architecture, Art and Design at Tec.
"It was a gratifying experience. It requires extra preparation and logistics, but it is a lot of fun. We even have the opportunity to interact with students from other continents and countries," said Paola Bárcena, a professor at the School of Architecture, Art, and Design.
Tec de Monterrey and TU Delft signed a co-operation agreement in June 2022 with the aim of sharing technology, talent, and academic content. As part of the alliance, Tec will rely on TU Delft to improve the technology used in holographic projections.
"They're happy with the technology. They intend to use it within their university in addition to the classes with us," Aldape said. "They have a large campus in Delft and are going to implement several receiving locations to teach hologram classes within the university."
"We are transferring our multi-year knowledge in class transmission using holograms," explains Carla Ramírez, leader of Educational Innovation and the Hologram Teacher Initiative. "We are at the beginning of having connections with universities other than Delft. The opportunity to have the best experts is wonderful. "
Holographic teaching of a university class has previously been seen at Imperial College Business School in 2018, albeit the teaching took place within the confines of one country. The technology in use at Imperial was developed by Toronto-based company ARHT Media and adapted by Imperial College Business School's Edtech Lab.
The Tec de Monterrey Professor Hologram technology that the university also pioneered in 2018 can be seen on a YouTube video.
Reference : AVinteractive