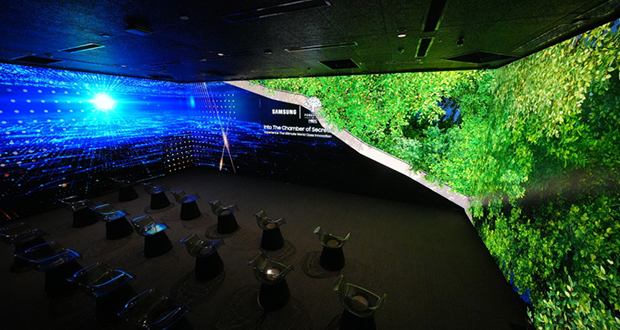 Samsung has announced a partnership with The Forestias by MQDC — Thailand's biggest property development project which combines forest with residences and commercial areas.
As part of the partnership, Samsung will supply its The Wall microLED display technology to a 360-degree theatre within the Forest Pavilion which is located at the heart of the project in Bangkok to showcase an immersive cinematic experience.
The Wall's high-definition, microLED display measures 38.707m x 3.628m for a total surface area of 140.43 sqm. The video screen is composed of 384 cabinets that are arranged in a line to produce one single 360-degree continuous image consisting of four sides, with a resolution of 46,080 x 4,320 pixels (or approximately 200 million pixels).
"This is one of the most exciting, world-class collaborations between leaders in novelty and sustainable living. I would like to congratulate all those involved for the strong partnership between Samsung Electronics and Thailand's largest property development project — The Forestias by MQDC," said Hyesung Ha, executive vice president of visual display business at Samsung Electronics.
Keerin Chutumstid, president of The Forestias by MQDC, said: " Our 'Chamber of Secrets' is a world-class, 360° animated theatre created by our main partner T&B Media Global Co., for our visitors to experience Thailand's first community designed for the health and happiness of nature, animals and humans. Samsung's The Wall, a state-of-the-art microLED modular technology, enables The Forestias by MQDC to immerse visitors in an experience that feels as close to reality as possible," said Chutumstid.
Reference : AVmagazine