Company's home city, Bristol, is to be the next site of a Portal Unity Network technology art sculpture, which will allow people across the globe to connect in real time via a 24/7 livestream.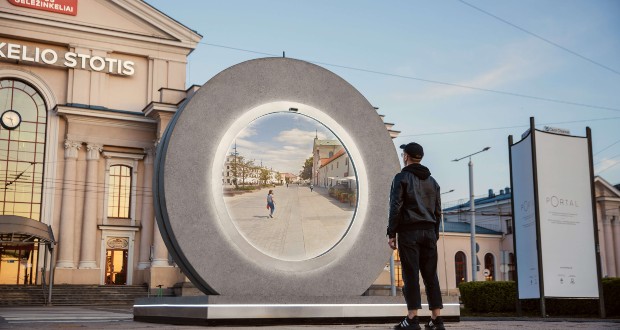 A worldwide network of technology art sculptures utilising Video Window technology is to be funded by an NFT auction.
The funding campaign has been launched by the Portal Unity Network, a global not-for-profit initiative.
The network's first link– connecting people via Video Window-enabled Portals in Vilnius, Lithuania, and Lublin, Poland – launched last year and media coverage of this link reached an audience of more than 1.5 billion people.
Each Portal in the new global network will be freely accessible to the public, offering a livestream 24/7, 365 days a year. The livestream will rotate between participating locations across the world, with more than 200 cities expressing an interest in adopting a Portal.
The project will allow people to connect, in real-time, with others in another country, with the aim of bringing unity to global communities.
The Portal Unity Network was conceived by the not-for-profit Benediktas Gylys Foundation. The network is seeking to build a global community of co-owners to govern its expansion, via the offer of a limited number of NFT-based ownership certificates for auction in the autumn.
Meanwhile, a team of second-year product design students from the University of the West England (UWE Bristol) will soon visit the Portal HQ in Vilnius, after winning a competition run by Video Window and the Portal Unity Network to design a Portal in Bristol.
This Bristol Portal will feature a huge circular screen embedded in an 11-tonne housing which will be connected to another city, so that people will have an insight into what's going on in a distant world.
Daryl Hutchings, chief executive of Video Window, said: "We've been inspired by the winning product design team at UWE Bristol and they truly deserve the chance to see the original Portal in action in Lithuania. Video Window's aim is to remove frustration and improve human connection, and we are proud to power the Portal and want to bring this to our home city of Bristol."
Reference : AVinteractive