DTEN ONboard, a 4K 55-inch touchscreen, provides equal access to Zoom Whiteboard for remote and in-office workers in real time and asynchronously, and can act as a standalone device.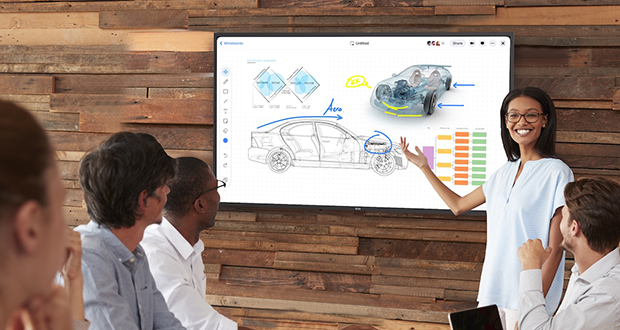 DTEN has introduced DTEN ONboard, an interactive, touch-enabled collaboration device that allows equal access to in-office and remote users.
With its shared, persistent canvas, DTEN ONboard also meets new demands for asynchronous collaboration, with inputs possible before, during and after meetings.
DTEN ONBoard was developed in conjunction with Zoom as the first device natively supporting the newly released Zoom Whiteboard features.
Designed to function as its own standalone appliance or as a companion whiteboard to Zoom Rooms, ONboard features a 4K 55-inch display with 10-point capacitive touch screen.
As with all DTEN products, it is simple to set-up, convenient to manage and intuitive to use.
Rick Corteville, CMO at DTEN, commented: "Collaboration isn't a single meeting; it's an interactive, creative, and inclusive process. DTEN ONboard provides the interactive hub that enables the entire team to participate equally, to continuously build on ideas and share progress."
He added: "Many meeting rooms are equipped with legacy video conference hardware lacking touch capabilities. The addition of DTEN ONboard immediately adds fully interactive collaboration without minimising video frames on the existing display."
DTEN ONboard is also readily compatible with Zoom's Workspace Reservation features, serving as an interactive map of available workstations and meeting rooms. It can utilise Zoom Rooms Digital Signage to share multimedia content. Plus, it serves as an advanced presentation tool that can be used to make a sales pitch, introduce a new product, or hold a company-wide meeting.
DTEN ONboard is expected to begin shipping this summer, with versions available for both Android and Windows operating systems.
Reference : AVinteractive